Blending Vessel / Blending Reactor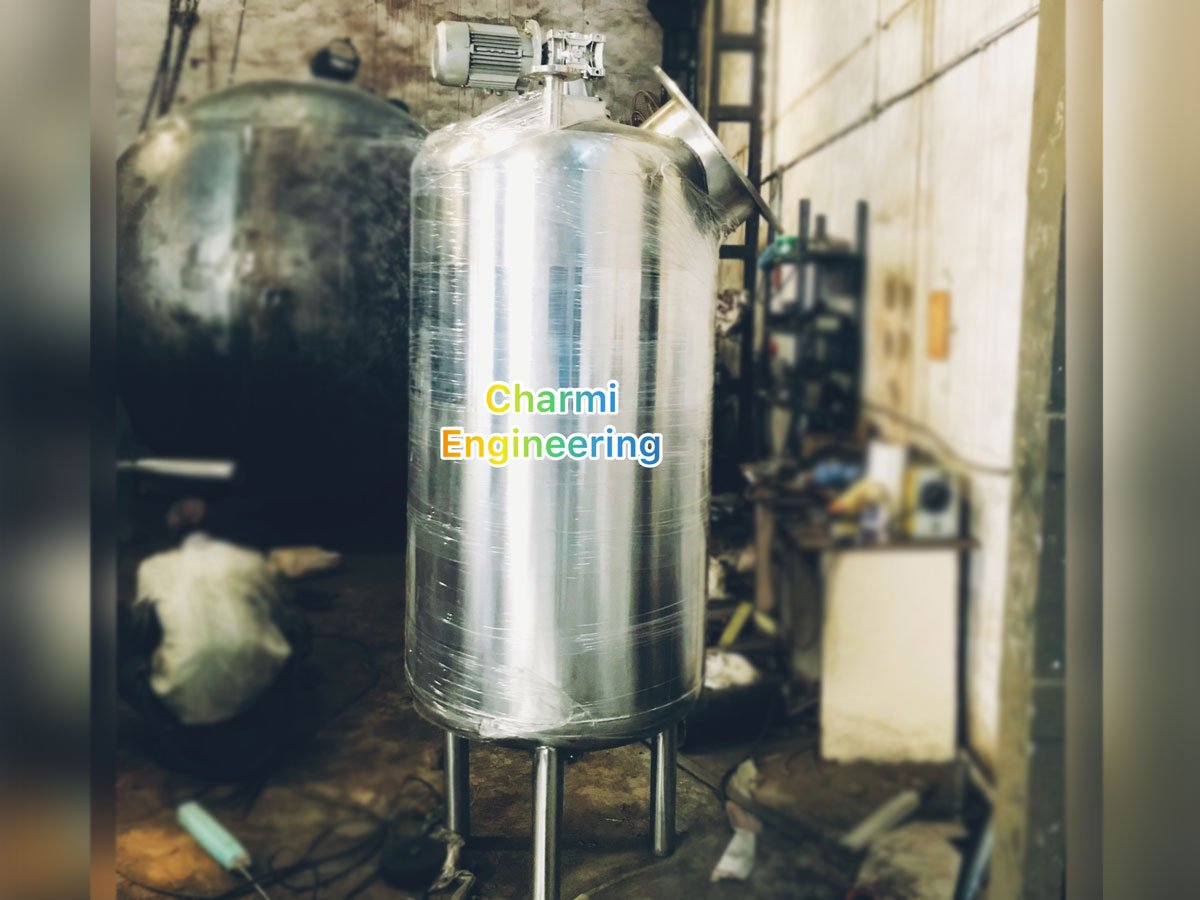 Charmi Engineering is one of the leading and trusted Stainless Steel Liquid Mixing Tank , Engine Oil Mixing Vessel manufacturers and exporters with a strong national and international presence. Since inception, we have been manufacturing a comprehensive array of Stainless Steel Liquid Mixing Tanks With Agitators , Engine oil Blending Vessel for various industries like pharm, chemical, agriculture, food processing industry etc for SS Blending vessel ingredients together. Owing to rich industrial experience and sound expertise, we efficiently manufacture customized Blending Vessel specifically for our client's applications. Boasting of advanced features, they can blend desired liquids consistently to boost your production output. 
Our, Glue Mixing Tank , Agitated Mixing Vessel are designed using highest grade raw materials, advanced machineries and technology and can efficiently help solve mixing challenges. Comprising a sturdy agitator for mixing and dispersing different materials, our offered liquid Mixing Tanks With Agitators help improve tank utilization, promote faster and homogeneous mixing of different chemicals and ingredients.
Being a trusted MS Mixing Tank , Melting Tank , high speed mixer Liquid Mixing Tank , Jacketed Mixing Vessel & Tank , Limped Mixing Vessel , Wax Melting Tank manufacturer, we strive for absolute satisfaction and provide our customers with the most innovative mixing tanks engineered using state of the art technology and engineering skills. We diligently work with you to support your needs and facilitate regular productivity in an organized manner. Owing to rugged construction, seamless performance, enhanced durability, corrosion resistance, longer service life, unparalleled quality, durability, appearance etc, our Stainless Steel Storage Tanks With Agitators are used for a wide range of pharmaceutical and industrial applications. They are available in various configurations and capacities ranging from 50 liters to 20 tons to meet the specific requirements of our clients. 
Being a leading Stainless Steel Mixing Tank Manufacturer, we adhere to industry standards and follow seamless manufacturing processes to deliver a precision engineered range of stainless steel storage tanks. To ensure the smooth functioning of our storage tanks, we subject our mixing tanks to various quality tests during the manufacturing processes. 
| | |
| --- | --- |
| Storage Capacity | 50 L TO 20,000 LITER |
| Tank Orientation | Vertical |
| TYPE | Bottom Dish End ,Top Flat End with Motor and Gear box , Inside Agitator for Mixing Material , Bottom discharge connection Vertical Leg Mounted |
| Usage/Application | Mixing or Blending Material |
| Mixing Material | Chemicals / Oils / Lubricant / Liquid Syrup / Sugar Syrup / Wax Melting /Engine Oil |
| Material | Stainless Steel ,Mild Storage |
| Orientation | Vertical Orientation |
| Shape | ROUND |
| Tank Diameter | As Per Your Requirement |
| Electric Heater | Single Phase or Three Phase |
| Temperature Controller | Automatic or PLC Operated |
| Mixing Speed (RPM) | Variable , Speed Up And Down As Per Requirement |
| Finishing Type | Matt Type ,Mirror Finishing |
| Heating and Cooling System | YES |
Application Industry
Pharmaceutical industry
Chemical industry
Food and beverages industry
Petro-chemical industry
Resins industry
Polymers industry
Coatings industry
Adhesives industry
Agricultural industry
General chemicals industry
Plastics industry
Rubber industry
Herbal Extractor