Stainless Steel Storage Tank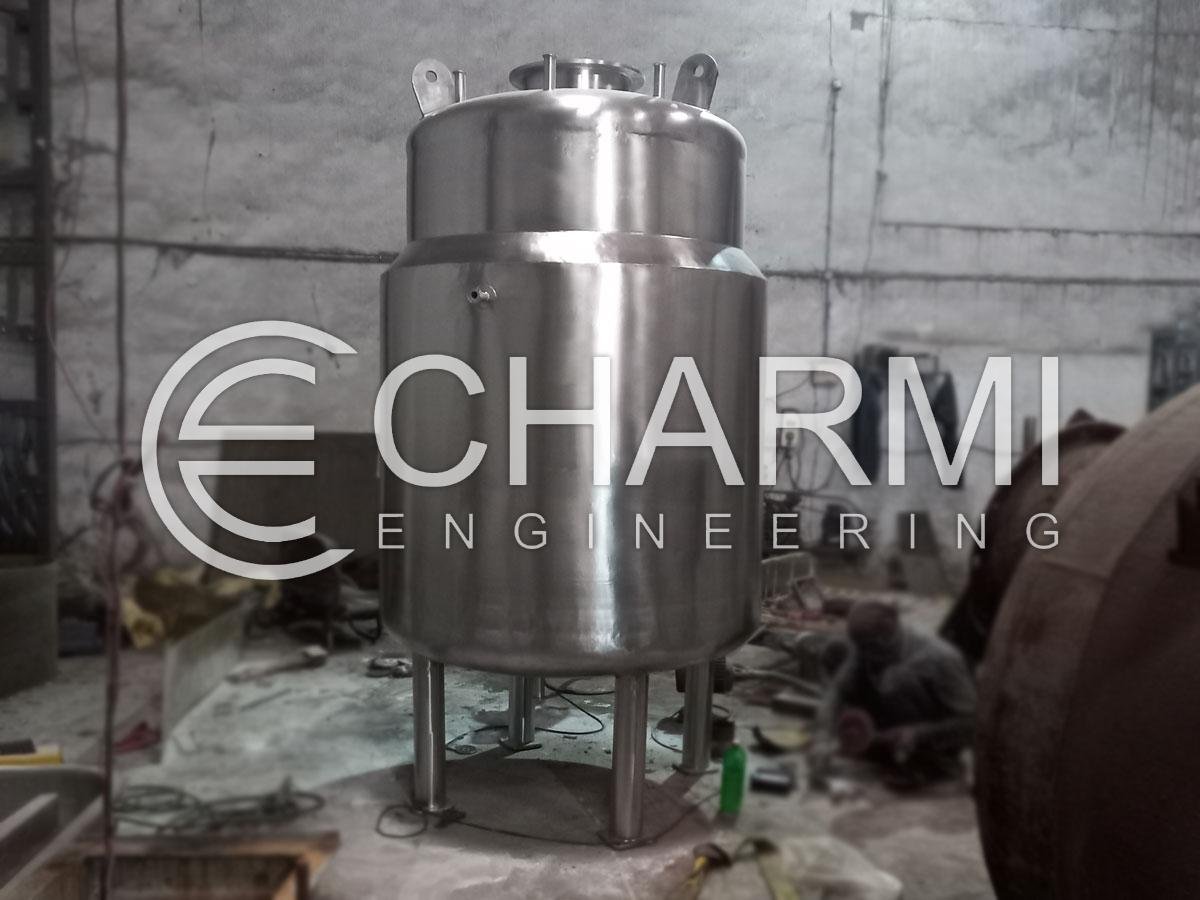 At Charmi Engineering, we are industry-leading manufacturers and suppliers of high quality and durable Stainless Steel storage tanks. Since inception, we have been providing full-scale solutions for various kinds of industrial and chemical storage. By leveraging our domain expertise and technical know-how, we provide brilliant quality and customized Solvent storage Tank and Edible Oil Storage Tank Tank others in accordance with specific industrial applications and required dimensions in industries. As we manufacture and supply an exceptional assortment of Pharmaceutical Water Storage Tank our tanks are widely used in various pharmaceutical, food processing and chemical industries for storing varied corrosive chemicals like acids, alkalis and solvents under high temperature.
All our Stainless Steel storage tank, SS Storage Tank, SS Chemical Storage Tank are manufactured using highest grade, anti-corrosive and anti-abrasion materials and advanced technologies to ensure longevity and maintenance. Owing to optimum quality, longer service life, high performance, less maintenance and hassle free operations, our vertical storage tanks including Chemical Storage Tank ,OIL Storage Tank are in huge demand across various industries for effective storage of chemicals for a prolonged period of time.
Designed using anti corrosive and high quality materials, ours SS Storage Vessel and cylindrical Storage tank can resist corrosion and withstand aggressive environmental conditions. While the sturdy steel structure is ideal for storing aggressive solvents and fluids without interfering with the chemical composition, a leak proof design helps prevent leakage, spilling and evaporation and unfortunate accidents in industries.
At Charmi Engineering , we follow a customer focused approach and cater to the diverse requirements of our clients. Our Ss Tank With Limpet COIL & SS Tank With Jacketed Tank are available in diverse storage and load capacities and shapes such as top Lid Type,  Flat Type, Dish End Type, Conical end bottom, flat end bottom, and dish end bottom. Being a leading Jacketed Tank , Limpet Tank manufacturer, we are highly committed towards achieving excellence in all of our products. Thus we diligently comply with international safety standards and conduct numerous quality checks to ensure a high strength and high quality product.
SPECIFICATION
| | |
| --- | --- |
| Storage Tank Capacity | 50 L TO 20,000 LITER |
| Machinery in Plant | Chemical Reactor , Column , Condenser , Receiver & blender |
| Tank Type | Top and Bottom Dish End , Bottom Flat End Top Conical , Vertical mounted ,Horizontal Mounted , Bottom Conical End , Round Shape , square Shape , Rectangular Shape , |
| Storage Material | Chemicals / Oils / Lubricant / Liquid Syrup / Sugar Syrup / Engine Oil |
| Material of Construction | Stainless Steel ,Mild Storage , Sa 516 Gr 60/70 , Special Grade , SS All Grade . |
| Orientation | Vertical Orientation , Horizontal Orientation |
| Shape | Round , square , Rectangular |
| Finishing Type | Matt Type ,Mirror Finishing & Painted |
| Insulation | Hot And Cold Insulation (If Required ) |
Applications
Pharmaceutical industry
Chemical industry
Food and beverages industry
Petro-chemical industry
Resins industry
Polymers industry
Coatings industry
Adhesives industry
Agricultural industry
General chemicals industry
Plastics industry
Rubber industry
Hotel Industries